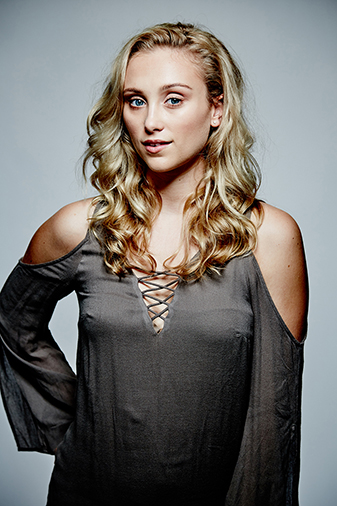 EMILY DICKSON
Emily is an all dancing, singing and acting performer, currently working as a television presenter for Network Ten, whilst also hosting events and working in short films. Since the age of five, Emily has had a strong passion for all manner of performance, practicing in dancing, acting and singing at Theatre & Dance. Throughout her high-school years, Emily trained in ballet, jazz, tap, hip-hop, contemporary and musical theatre, appearing in countless eisteddfods, school musicals and Harvest Rain Theatre Company's Joseph and the Amazing Technicolour Dreamcoat. In addition to practicing the arts, Emily is dedicated to the academic side of the performance world, completing up to and including grade eight examinations in drama and performance at AMEB & Trinity College, and currently studying towards her ADPA Certificate. Emily also regularly attends classes and workshops with industry professionals to further develop her skillset.
In recent years, Emily has had opportunities in live performance, as well as, in film and television. Her experience includes the appearing in the television commercials for 'Aerogard', 'Vaya', and 'Oldmac Mazda', whilst also being selected for the Brisbane Broncos Cheerleading Squad in 2015. Working in children's entertainment has been amongst Emily's favourite aspects of her performance career so far, with some of her warmest memories coming from hosting the Peppa Pig "Muddy Puddles" Stage Show, and playing Barbie in meet and greet roles for The Entertainment Store.
Emily has also been involved in hosting numerous corporate events such as the Mercedez-Benz Fashion Luncheon, Creative Generation State Schools on Stage, The Redland City Councils 'Christmas by Starlight Pre Show' and the QUT Classic Fun Run, as well as several events for Westfield and The Lady Cilento Childrens Hospital.
Over the last two years, Emily has hosted Network Ten's preschool program Crocamole aired nationally on weekdays, an incredible opportunity allowing her to develop as a presenter whilst doing what she loves. Emily could not be more excited to see what more her time within this role brings, and is looking forward to a career in the performing arts.